Esplanade Dental
About Your 'Dental Clinic Near Me'
Esplanade Dental Centre, your 'Dental Clinic Near Me'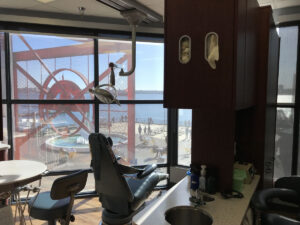 Esplanade Dental Centre is your 'dental clinic near me' that has been proudly serving the North Shore for 39 years. Dr. Hussain Hussainy and staff are pleased to welcome new patients.
Conveniently located on the second level of the market, facing the water, your 'dental clinic near me' offers an amazing view for patients to enjoy while receiving their dental treatment. We offer a full range of general restorative and cosmetic dentistry as well as orthodontics, implants, veneers, teeth whitening and teeth cleaning with our professional hygienists.
Your local dental clinic is open six days a week Monday through Saturday with two hours of free parking available in the Quay and free parking at ICBC on Saturday. The dental team at Esplanade Dental Centre looks forward to seeing you for a lifetime of healthy smiles!
Meet The Dentists At Your 'Dental Clinic Near Me'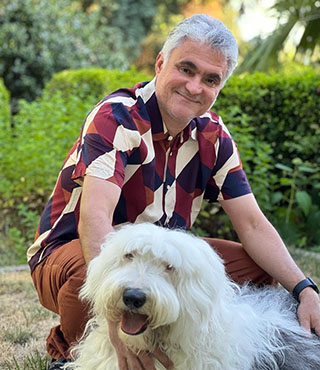 Dr. Hussain Hussainy Nasab
General Dentist
Dr. Hussainy graduated in 1997 from Bangalore University in Bangalore, India. He then conducted lectures on dental materials and pre-clinic prosthetics at the university for a year after his graduation.
Dr. Hussainy then moved to Kingston, Jamaica where he worked as a dentist and volunteered in a mobile clinic for patients that could not afford dental treatment. In 2011 Dr. Hussainy joined the University of Alberta to do 2 years of a re-certification program to maintain his license in Canada. In 2013 he moved to Winnipeg to join his sons and wife who was at the time completing her family physician program.
Dr. Hussainy has had the opportunity to work and live in many different places around the world, and because of this, he is able to speak 3 languages such as Hindi, Urdu, and English.
Meet The Team At Your 'Dental Clinic Near Me'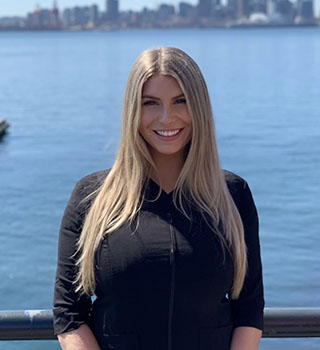 Breanne
Registered Dental Hygienist
Breanne describes herself as "West Coast at Heart", being born and raised in North Vancouver she gained her appreciation for the ocean and the mountains. She attended Birkbeck University of London in the United Kingdom for business and marketing but decided to pursue her passion for the dental field. Breanne made the leap and moved to Toronto, Ontario where she graduated dental hygiene school in 2016. Shortly after graduation Breanne was offered a job opportunity to relocate to the Cayman Islands, there she expanded her knowledge base working with dental lasers and orthodontics. Volunteering is a very important component to her life having worked with the Vancouver Aboriginal Health Society, Special Olympics, and North Shore Connexions society to name a few. She is also an active respite worker with challenged youth. Breanne speaks french fluently and is known for her bubbly demeanour. Outside of the office Breanne stays busy hiking the mountains, paddle boarding, handing out on the seawall with her dog Roxy and traveling any opportunity she gets!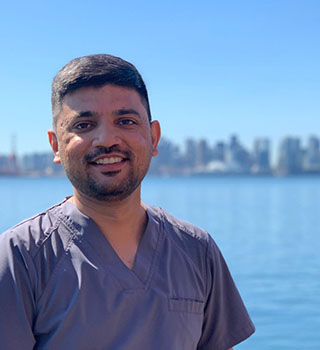 Amit
Registered Dental Hygienist
Amit grew up in Rajkot, India but has called Canada home for the past 7 years. Originally, he made the moved to Thunder Bay, Ontario where he attended dental hygiene school.  After graduation Amit was curious about what the west coast had to offer and made the move to beautiful British Columbia. He has never looked back since and enjoys the milder winters! Amit prides himself on providing the highest quality of care and focuses on preventative patient education.  Amit is proud to work alongside so many great team members who strive daily to help one another.  He also appreciates that the clinic keeps up with the latest technology to make the patient experience as comfortable as possible.  In Amit's free time he likes to go hiking, watch movies and enjoy a nice meal with his family.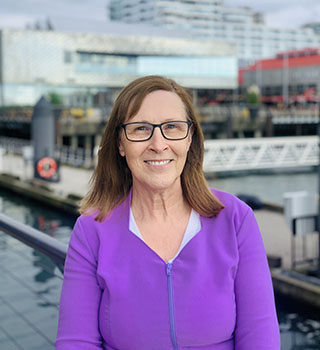 Betty Anne
Registered Dental Hygienist
Betty Anne has been privileged to work in several different aspects of dental hygiene including clinical practice and teaching. She obtained her first license to practice dental hygiene in Ontario in 1983 and has also been licensed in Vermont USA, before coming to British Columbia. As a Dental Hygiene Practitioner, Betty Anne strives to work alongside clients in a collaborative effort to help achieve not only a healthy, confident smile, but sustainable overall health. Outside of the office you can find Betty Anne quilting and trying to keep up with her grandson!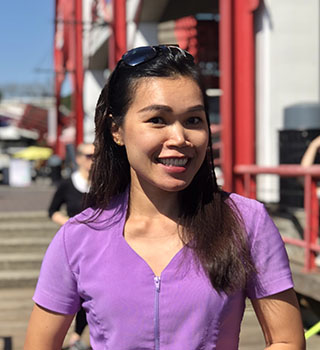 Khwan
CDA / Treatment Coordinator
Khwan graduated as a certified dental assistant from Vancouver Community College in 2016. She is originally from Thailand, where she earned her Bachelor degree as an English major in 2004. Prior to moving to British Columbia, Khwan explored the world. She live in Alaska, New Jersey and around Europe working with children as an au pair. Khwan now calls Vancouver home and really enjoys her career in the dental field. She has worked very hard towards her goals and is now a treatment plan coordinator and office manager. Khwan strives every day to provide gentle care, comfort and compassion to her patients. She is also known for keeping her patients laughing and at ease in the dental office. Outside of work you can find Khwan at the gym or doing anything active as she is a self-professed fitness junkie! She also loves cooking and experimenting with recipes as long as its spicy!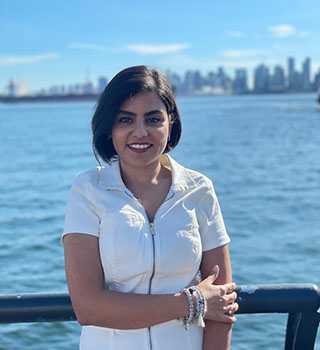 Narges
Dental Assistant
Narges is originally from Iran, where she earned her Bachelor's degree in 2015 as a Nurse Anesthetist. She moved to BC, where she completed her MBA, but missed working hands-on with patients in the healthcare field. Narges has fallen in love with Dentistry, and her background as a nurse has been very complimentary, making her a compassionate dental assistant. She loves the BC outdoors. You will see her biking around Stanley Park in her free time and online shopping.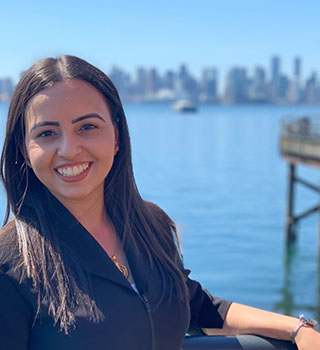 Ramjeet
Office Manager
Ramjeet was born and raised in India and moved to British Columbia in 2011. Her favourite thing about working with our office is being able to see the Pacific ocean from her desk, she finds it very relaxing. Being a part of the front desk reception and administrative team is important to Ramjeet because she loves patient interaction. You can find her greeting patients at the door with a big welcoming smile. She will always remind you that the dental office is a relaxed and safe place. Ramjeet ensures patients are well informed about their insurance policies and will answer any questions you may have about treatment options. Outside of work you can find her cooking up a storm and shopping!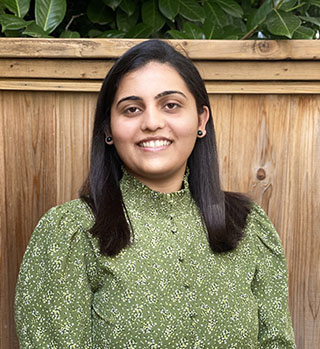 Khyati
Administrator
Khyati is armed with a degree in Computer Science Engineering and recently graduated from a Dental Reception program in December 2022. Born and raised in the western part (Gujarat) of India, she embraced a new life in BC after her marriage in 2019. Khyati enjoys her desk's serene view of the Pacific Ocean, finding it inspiring.
As a critical administrative team member, she easily handles patient care and various administrative tasks. She is fluent in three languages: Gujarati, Hindi, and English, and her friendly demeanour ensures a welcoming environment. A natural communicator, she makes each patient interaction meaningful and reassuring. Khyati is also well-versed in answering patients' insurance-related questions and clarifying their coverage.
Beyond work, Khyati channels her creativity into painting, and her adventurous spirit leads her to explore new places and hike the captivating trails of British Columbia's mountains with her husband.